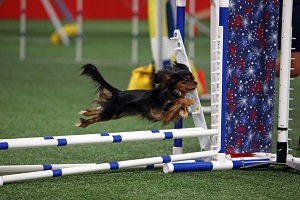 Performance events provide an opportunity for a dog and handler to work together as team. Training for the various performance events provides mental and physical stimulation for a bored house pet, and provides a fun and challenging hobby for the dog's owner.
Cavaliers are known for being happy, easy to train, their desire for being with you, eager to learn, and intelligent. All of these traits make them an ideal partner for performance events. The basic training done to help make your cavalier a well mannered family pet, is the foundation for the advanced training in performance events. To maintain the Cavalier's upbeat attitude it is important to always be patient, keep training sessions short, reward often, be persistent, consistent, and always end with a success when training a Cavalier.
Dog agility is a sport in which the dog is directed by its handler through an obstacle course. It is a race of speed and consistency, where the dog with the fastest time and fewest penalties wins. Dogs are divided into various divisions determined by their height, so that dogs of similar height and stride length compete together, as well as various skill levels. Some organizations offer not only the "Standard Classes" but also " Games". Every course is different and the handler must assess the course, decide on the best handling strategies to direct the dog through the course.
The obstacles the dog performs consists of various jumps, weave poles, open tunnels, pause table, closed tunnel, and what are considered the contact obstacles, A-frame, Dog Walk, and teeter, where there is a yellow contact zone that the dog must make contact with or they will be disqualified.
It is very important for a dog to be structurally sound when being considered for an agility prospect. Agility is a high-impact sport that places a lot of stress on the dog's body, as they jump, make sharp turns, climb and weave. If structure is not considered , the dog will easily become injured and not hold up to the wear and tear placed on them while they are playing the sport.
Some of the organizations the offer agility competitions:
American Kennel Club-AKC
United Kennel Club- UKC
North American Dog Agility Counsel-NADAC
Canine performance Events-CPE
United States Dog Agility Association-USDAA
Teacup Dog Agility Association-TDAA
AKC TITLES:
NA-Novice Agility Standard
NAJ-Novice Agility Jumpers with Weaves
NF-Novice Fifteen and Send Time
OA-Open Agility Standard
OAJ-Open Agility Jumpers with Weaves
OF-Open Fifteen and Send Time
T2B-Time to Beat
AX-Excellent Agility Standard
AXJ-Excellent Agility Jumpers with Weaves
XF-Excellent Fifteen and Send Time
MX-Master Agility Standard
MXJ-Master Agility Jumpers with Weaves
MXF-Master Fifteen and Send Time
MACH-Master Agility Champion
RALLY
Rally is a wonderful way to get started in obedience competition. Its concept was started by taking the various exercises required for traditional obedience competition, and breaking them down into individual skills. Unlike traditional obedience competition, the team does not wait for the judges orders. The team navigates in heel position around a course of 10-20 designated stations, each station holds a sign that instructs the team in what exercise or skill to perform.
Some of the organizations that sanction Rally Obedience.
American Kennel Club-AKC
United Kennel Club-UKC
Association of Pet Dog Trainers-APDT
Canine Works and Games –C-Wags
Canines and Humans United-CHU
AKC Rally Obedience Titles
RN- Rally Novice
RA-Rally Advanced
RE-Rally Excellent
RAE-Rally Advance Excellent
OBEDIENCE
The word obedient means to comply with the direction or command given by the handler. For a dog to be considered obedient, rather than simply a dog that has received training, the dog must respond reliably each time the handler gives a command. Obedience competitions were formed with the objective to showcase a dog that has been trained to behave at all times and in all situations, in the home, in public, in the presence of other dogs or people.
In obedience competition the handler is directed by a judge to ask their dog to perform certain skills. The team is judged against a standard of proficiency, and they must perform each skill with the accuracy to earn a total score of 170 out of 200 to earn a qualifying score. The dog and handler team must accomplish this three times to earn a title. The skills required for the Novice level include, heel, sit, down, stay, stand for exam, and recall. Some of the more advanced skills include directed jumping, scent work, responding to signals instead of verbal commands, and drop on recall.
American Kennel Club-AKC
United Kennel Club-UKC
Association of Pet Dog Trainers-APDT
Canine Works and Games –C-Wags
Canines and Humans United-CHU
AKC Obedience Titles:
CD- Companion Dog
CDX- Companion Dog Excellent
UD- Utility Dog
UDX-Utility Dog Excellent
OTCH-Obedience Trial Champion
CANINE FREESTYLE
Canine Freestyle is a modern dog sport that combines obedience, tricks, and dance. Freestyle is a choreographed routine put to music show casing the training and joyful relationship of dog and handler. Matching the right music, costume, training, team work, and movement together to best showcase a dogs reach, athleticism, and beauty is a joy to watch and achieve.