Susan Shidler – SevenWoods Kennels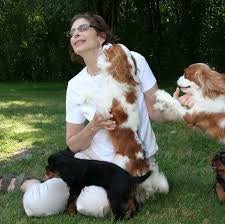 My first dog was a sweet Sheltie from a childhood family friend.  She owned the first SevenWoods Kennels. My own is named in her honor.  I spent my childhood next to her whelping box.  I helped whelp my first show dog when I was a teenager.  Unfortunately circumstances prevented me from having dogs again until many years later.  I've spent the last 30+ years totally besotted by the Cavalier.  My first was Salador Caldaire of Islehaven co-owned with Trish Hutchins.  Then Homerbrent Mohican came to live with me, also co-owned with Trish.  This began my years of friendship with Molly Coaker and the thrill of having several more of her gorgeous dogs, among them H. Esquire, my beloved Teddy, BISS CKCSC CH /AKC CH H. Patience, and my last, H. Merry Melissa who is still ruling the roost with Paul and Margaret Gigous.  I have had some modest success in the show ring but my proudest achievement has been in breeding progressively healthier, long lived Cavaliers.  I strongly support health testing, including CHIC certification, genetic testing for CC/DE, EF and lately DM.  I have been doing MRI screening on my breeding stock since I first learned about "that scratching disease".
I am honored to have been asked to judge your Specialty and thank all who have chosen to show today.